Rubbish Removal

Pimlico SW1

London is without question an ever-growing city, both in size and stature. You won't be able to walk five minutes before you see a new development under construction or being unveiled. It is part of what makes the city what it is in many regards. This attitude isn't limited to strictly the retail and business sectors either, as there are many house-proud individuals wanting to keep their home looking as modern as it can be. If you are one of the many homeowners who are choosing to implement redevelopment into your property, then builders waste is going to become a problem. When you want Pimlico waste clearance services that can make the difference, don't waste your time with the pretenders.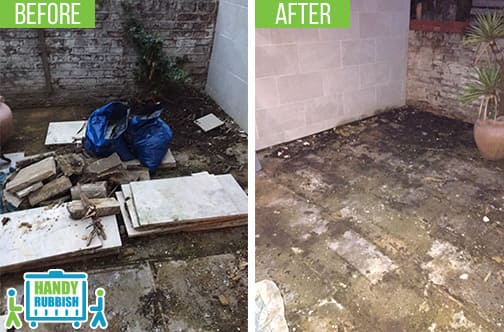 What we do
Where to find us
Like us
Book Cheap

Rubbish Clearance Service in SW1

The experienced team at Handy Rubbish understands everything that Pimlico rubbish removal truly entails. If you are looking to get your property back up to scratch after some building work, and then call 020 3540 8282 to get the process started. One of the team is waiting by the phone to fill you in on what we do here and provide you with a free quote as well. Call our Pimlico waste removal SW1 team on 020 3540 8282 we will give you a free no obligation quote, along with more information about how exactly our SW1 rubbish clearance services work.
Reliable and Affordable

Waste Removal Services in Pimlico

Passport to Pimlico brought this small area into the limelight back in the 1950s and the fame hasn't wilted over time. The area has played home to some of the most important individuals to ever grace in the United Kingdom. The aforementioned has made the area very popular from a residential perspective with many choosing to move both into and around the area quite frequently. If you are one of the many doing this, then you are going to need to find yourself reputable SW1 waste disposal professionals.
List of services we provide

in Pimlico, SW1
Household Rubbish Clearance Pimlico, SW1
Commercial Rubbish Disposal Pimlico, SW1
Building Waste Removal Pimlico, SW1
Garden Rubbish Removal Pimlico, SW1
Electronic Waste Collection Pimlico, SW1
Garage Clearance Pimlico, SW1
Professional

Rubbish Disposal Company in SW1

When you want true reliability, then you are only going to need to speak to one name. Handy Rubbish has been a strong presence throughout the SW1, W1, and SW3 postcode areas not by chance but by design. By using the best Pimlico rubbish disposal staff in the industry and the latest clearing apparatus to match, we provide a waste disposal service in Pimlico, SW1 to the area residents that is simply unmatched. Next time you are looking to clear rubbish from your home get in touch.
Testimonials
Used their waste collection in Pimlico. Experienced and cheerful staff!
Hired this rubbish clearance company in Pimlico for a garage clear-out and I am pleased with the result. Now I have a clutter-free garage in SW1 and paid a low price for a really efficient service!
A Good Place to Dwell
Pimlico by name alone is definitely one of the most famous names in not only Central London and the City of Westminster, but also London as a whole. In fact, the area was once so famous at one point in time that an entire film was based around the community that lives there. The area, much like neighboring Belgravia, is small in size yet big in stature. It is known for its grand garden squares and the surrounding Regency architecture. Pimlico is also closely located to the River Thames, meaning that glorious views are one thing that the area definitely isn't short of. Residentially speaking Pimlico can be considered classic in appearance, as there are over 350 Grade II listed buildings in the area, along with plenty of Grade II listed churches as well. Pimlico has also seen plenty of famous residents over the years, with without doubt the most famous being politician Winston Churchill. Other residents include the likes of Laurence Olivier, Laura Ashley, and author Aubrey Beardsley. If you live in Pimlico then you can be sure that you are treading on the same streets as some of the United Kingdom's most influential people.


DO YOU NEED ADDITIONAL SERVICES?