Rubbish Removal

Pratt's Bottom BR6

Whenever we speak to our customers and ask what it is that they want from Pratt's Bottom BR6 rubbish disposal service, there are three main things they respond with: they want a fast and reliable service; they want a friendly and effective team, and they don't want to have to splash too much cash to get it. And they all also comment that that's exactly why they came to us for the Pratt's Bottom waste collection BR6, because we just so happen to offer all of those things. So if you'd like to join the legions of satisfied customers, then just call 020 3540 8282 today and discover the perfect rubbish collection service for you, offered by Handy Rubbish.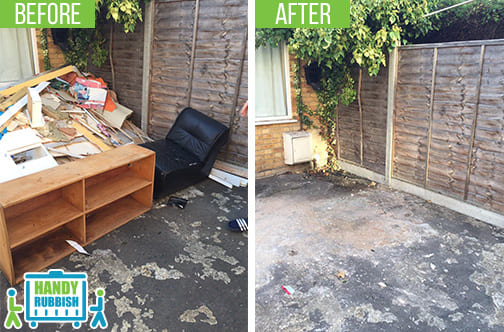 What we do
Where to find us
Like us
Book Cheap
Rubbish Clearance Service in BR6
Our customers are extremely important to us, but we have to make a confession: there's something we hold even dearer than our valued customers, and that's this beautiful planet we live on. We are sick and tired of watching people continually put our planet in danger with irresponsible rubbish clearance Pratt's Bottom BR6, so we are on a mission to help the people of Pratt's Bottom do it right. Our Pratt's Bottom rubbish removal team are experts in recycling, and not only will they recycle at least 85% of what they collect during rubbish clearance, they are also on hand to offer advice on how to recycle more at home. Don't let our planet suffer any longer, let us help you make a change by calling 020 3540 8282.
Effective and Efficient
Rubbish Disposal in Pratt's Bottom
Some people assume that waste disposal BR6 is an easy job and that anyone can do it. But it's actually a lot more complex than it sounds; there's a lot of regulation around waste removal Pratt's Bottom that experts need to know, not to mention knowledge about safe handling of waste and awareness of hazardous materials. Luckily we have a great team working for us who are completely trained in all of these areas, all have many years of experience in the field, and are all fully vetted and checked prior to employment. All in all we think (actually we know) that we have the best team in Pratt's Bottom, and we are lucky to have them working for us at Handy Rubbish.
List of services we provide

in Pratt's Bottom, BR6
Household Rubbish Clearance Pratt's Bottom, BR6
Commercial Rubbish Disposal Pratt's Bottom, BR6
Building Waste Removal Pratt's Bottom, BR6
Garden Rubbish Removal Pratt's Bottom, BR6
Electronic Waste Collection Pratt's Bottom, BR6
Garage Clearance Pratt's Bottom, BR6
Save Yourself Some Money with Our
Pratt's Bottom Waste Clearance Services
If you live in Pratt's Bottom and are looking for a cost-effective solution to your rubbish collection needs, then you need look no further, because we are here to help. We provide the lowest rates in all of BR6, and pride ourselves on prices that can't be beaten. Our waste clearance Pratt's Bottom services are designed to suit every budget, and our special offers and discounts for on-going and repeat work, ensure that all in the BR6 district can access the service they need, at prices they can afford. To see how we rate against other companies in the area, why not give us a quick call on 020 3540 8282 to speak to the experts and get your free quote today. Book now and see for yourself the great value for money!
Testimonials
The did a terrific house waste removal in Pratt's Bottom for us. Well done!
Fantastic flat clearance team who cleared out my flat in BR6 quickly and cheaply. I had an awful lot of stuff to get rid of, but that didn't phase the Handy Rubbish at all.
Bob Ramsbottom

16

Nov 2020
Punctual, arrival to Pratt's Bottom was early. They loaded the wood into the truck, then cleared up the area. Highly recommend Handy Rubbish.
The waste clearance team from Handy Rubbish arrived our property in BR6 on time, removed the waste from the premises.
My nephew recently moved out of my BR6 area, and he left some stuff behind to clear away. I called this rubbish removal company as they had reasonable rates and decent reviews. They did a fine job. Would use them again.
My parents hired this waste clearance company to do some work in their BR6 area flat. They were very happy with the end result, and they did not overcharge them.
Cassandra Evans

30

Oct 2019
After moving to BR6 really needed a waste disposal service in a hurry. That is exactly what Handy Rubbish provided for us, chuffed with everything they did.
Norma and Cliff

06

Aug 2019
Paid a low price for a top-quality waste clearance service in Pratt's Bottom BR6 from your company, and it went like clockwork.
Got a really good price and service in Pratt's Bottom from Handy Rubbish over the weekend. If they work this well all the time, I'll never use anyone else for waste collection.
They promised the best prices for waste collection in Pratt's Bottom and I'll admit I was a bit dubious, until I started ringing around some other companies in BR6 and found they really are the cheapest. But also one of the best for quality too! Win-win.
More than Just a Funny Name: Pratt's Bottom

Affectionately known due to its unusual name, Pratt's Bottom is a relatively small village in the London Borough of Bromley, although some consider it to be part of Kent. Served by a bus network connecting it to other areas of Kent, as well as other parts of the borough, the nearest train station is Knockholt. Being a small village, there are relatively few major attractions, but the area does have a village hall which is a local charity organisation running events and activities for residents of the area. Pratt's Bottom also has two local churches, the Bulls Head Pub, and a green behind the village hall.
DO YOU NEED ADDITIONAL SERVICES?