Rubbish Removal

Putney SW15

It doesn't matter whether you move home once in your life or one hundred times, you will encounter the same battle on each occasion. Such battle is even more prevalent in London more than anywhere else. Domestic clearing will always be a challenge, no matter whether you are tackling with it alone or with other people. If you live in the area, then you thankfully have a professional rubbish removal SW15 service that you can employ to take the task out of your hands.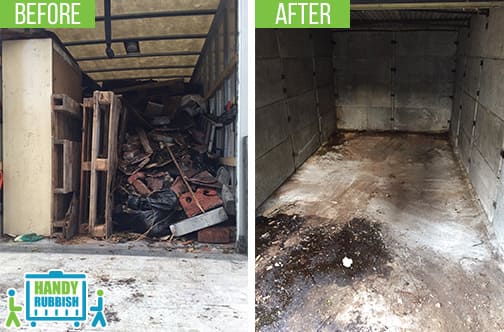 What we do
Where to find us
Like us
Book Cheap

Rubbish Removal Service in SW15

When it comes to Putney rubbish clearance services, the number one name in the field stands out by a country mile. Handy Rubbish has been working with members of the community for years, establishing a reputation for quality in the process. If you need the very best in waste removal in Putney, SW15, then all you have to do is pick up the phone and call 020 3540 8282. It doesn't matter whether you live in the SW15, SW18, and SW19 postcode region, our team of experienced staff can reach you. So what are you waiting? Choose the best by calling us!
Professional Teams

and Putney Waste Removal Services

Putney seems to be one of the most pleasant and accessible London suburbs, so its popularity should really come as no surprise. If you are already a resident in the area, or thinking of becoming one soon, then you are going to need to address the controversial topic of rubbish disposal Putney. It used to be a task that has to tackle with all on your own, but the graft involved can often turn out to be too much. Thankfully, our SW15 waste disposal services are on hand to make sure you will never need to undertake such struggle ever again.
List of services we provide

in Putney, SW15
Household Rubbish Clearance Putney, SW15
Commercial Rubbish Disposal Putney, SW15
Building Waste Removal Putney, SW15
Garden Rubbish Removal Putney, SW15
Electronic Waste Collection Putney, SW15
Garage Clearance Putney, SW15
All You Ever Need to Know About

Putney Rubbish Clearance

When it comes to waste clearance in SW15, you won't want to put your needs into the hands of someone, who doesn't know what they're doing. As if you do this, it could lead to disaster. Professionals in the area Handy Rubbish will handle it, as we are a long-standing feature within the Putney community. If you are ready to make the smart move and work with our experienced staff, then call us today on 020 3540 8282. Our waste collection Putney team is available during business hours seven days a week and is standing by to provide you with a free no obligation quote.
Testimonials
Used the junk clearance service in SW15, can only commend the company on a stupendous job.
I can always rely on them when it comes to rubbish disposal in Putney. I have used their service in SW15 more than 5 times and they never fail to please!
Feel the rustic sence
Based in the South West of London, within the Borough of Wandsworth, Putney is known for its famous bridge, but there is much more to the area than just that. As one of the 35 major centres in London, Putney could be forgiven for getting lost in the shuffle that is the London Plan. However, the 2011 census showed that Putney, even though not rich in landmarks, is an area that definitely isn't short of character and charm. The area is largely made up of a very professional presence - this includes plenty of doctors and lawyers. While the area is also known for being highly multi-cultural and melting pot philosophy, that London prides itself upon. Unfortunately, such character has been diminished by the "identikit" shopping elements that lie throughout the area. What draws people to the area is obvious; it offers greener elements than the rest of the capital. From Wandsworth Common to Putney Green, the area has plenty of villages that definitely give Putney a rustic feel. If you are looking to find a London district that still has classic appeal, then there is every chance that Putney could be the area for you.
DO YOU NEED ADDITIONAL SERVICES?