Rubbish Removal

Reddicap Heath B75

Whether it's large or small, you have a lot or just a bit, there will be items you don't need, use or want any longer. These can be goods that have lost their usefulness, the person who owned them no longer lives or works with you, you may have replaced them with newer things and so on. This junk will reduce the space in your home, make things look untidy, make cleaning tough, adding more work to a move, etc. If you want to deal with all the junk in your home, call right now on 0121 794 8242 and speak with Handy Rubbish. We are a top Reddicap Heath waste removal firm who can handle all types of waste clearance for you.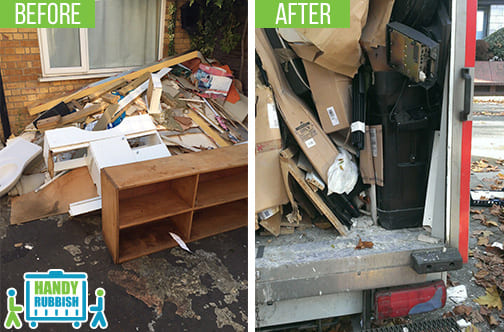 What we do
Where to find us
Like us
Book Cheap
Rubbish Clearance Service in B75
We can deal with a large range of clutter and junk for you in B75. We have years of experience in Reddicap Heath B75 rubbish clearance industry that allows us to remove any type of item, large or small, and dispose of everything properly. Our team will help when it's convenient for you and shift things safely from your home or workplace. Our waste collection B75 team will shift the items carefully from your building but they will still get the job done swiftly. We will take all your junk, place it on our vehicles and ensure it reaches the proper places to be disposed of. Our staff will work with you to guarantee that the right items are removed and that you get the waste removal support you desire.
Disposing of the Clutter with our Excellent
Rubbish Disposal Services in Reddicap Heath
We are dedicated to recycling and providing green service when handling Reddicap Heath rubbish disposal B75. We will aim to recycle as many of the items we collect from your property as we can, with at least 85% being remade or reused. We do this as a commitment to the environment and at no extra cost or work to you. We believe it is our responsibility to handle waste properly and so will take all measures to perform green waste clearance Reddicap Heath B75 for you. We will take the junk from your place and ensure it arrives at the proper sites to be recycled and we will work with the right organisations and people to make sure this is done legally and correctly. To find out more, call 0121 794 8242.
List of services we provide

in Reddicap Heath, B75
Household Rubbish Clearance Reddicap Heath, B75
Commercial Rubbish Disposal Reddicap Heath, B75
Building Waste Removal Reddicap Heath, B75
Garden Rubbish Removal Reddicap Heath, B75
Electronic Waste Collection Reddicap Heath, B75
Garage Clearance Reddicap Heath, B75
Save With Our Cost-effective
Reddicap Heath Waste Clearance Services
There will always be some form of clutter in your home so calling Handy Rubbish on 0121 794 8242 will give you the easiest way of dealing with this. Our rubbish removal Reddicap Heath services are flexible so you can get everything you need, the way you want it. You can discover more about our Reddicap Heath waste disposal deals when you speak with an expert over the phone who will fill you in on everything you need to know about us. Don't let junk removal tasks cause you any stress – we'll take care of them at a low price.

Testimonials
Great prices for waste collection in Reddicap Heath B75! It was a simple and trouble-free experience!
- Reviewed by Huw
A Little about Reddicap Heath

Reddicap Heath is an area of Birmingham, in Sutton New Hall Ward, within the West Midlands. It uses the B75 postcode and is in close proximity to Sutton Trinity Rectory and Falcon Lodge. In 1763, Red-Cap Farm was found here and it may have been the origin of the area's name. The area would become urban around the mid-20th century. No. 59 Reddicap Hill is an old cottage here that dates back to the 16th century. Vesey houses are named after Bishop Vesey who worked to improve the area under Henry VIII. The Anvil is a local pub.
DO YOU NEED ADDITIONAL SERVICES?