Rubbish Removal

Saltley B7

When looking for a team in Saltley to take care of your Saltley waste disposal B7, look no further than Saltley rubbish removal experts that we have working for us at Handy Rubbish. Saltley covers a large area, in which there're always commercial establishments and property owners who need professional help with waste removal Saltley B7. Our aim as an experienced, well-reputed company is to provide tailor-made services, so that you'll be able to tackle this problem head on and free your area from unwanted junk and clutter. You can learn more about what our services can do for you by calling our team on 0121 794 8242. You'll receive a free estimate, no obligation required, and then be left to make a decision.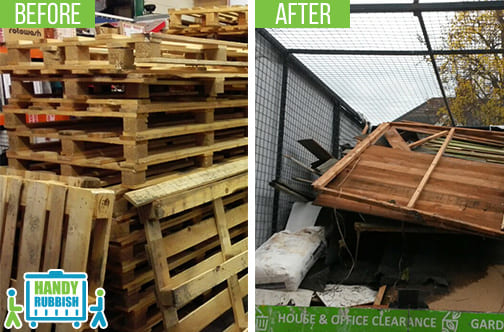 What we do
Where to find us
Like us
Book Cheap
Rubbish Clearance Service in B7
With a range of Saltley B7 waste clearance services available to hire, we can cater for your needs whatever your specific requirements. Call Handy Rubbish and you'll be able to get your rubbish clearance B7 needs sorted in a jiffy. We cater for the needs of commercial establishments in Saltley B7 and those living in the vicinity, so if you have a load of rubbish blighting the appearance of your property, let us take care of your waste disposal chores and rectify the situation. Not only are we available to work in different properties, we can also take on different types of jobs, including clearing away junk left over from building work, garden clearance etc. For a free consultation call us today on 0121 794 8242.
Hire Professional
Waste Removal Services

at Your Convenience in Saltley

In such a large area, there's always going to be issues with junk and garbage. If left to fester, the problems that come along with it could multiply and begin to affect not only your quality of life, but the environment as well. As an eco-friendly rubbish disposal Saltley company operating in Birmingham, we see no point in carrying out our rubbish collection service only to dump your rubbish elsewhere and let it affect another area. That's not dealing with the problem – it's just lumping it on the shoulders of someone else – so we strive to recycle 85% of the items we collect thanks to our company's ethos and to our professionalism.
List of services we provide

in Saltley, B7
Household Rubbish Clearance Saltley, B7
Commercial Rubbish Disposal Saltley, B7
Building Waste Removal Saltley, B7
Garden Rubbish Removal Saltley, B7
Electronic Waste Collection Saltley, B7
Garage Clearance Saltley, B7
You Will Get a Great Deal When You Choose Our
Saltley Waste Clearance Services
We can clean up your local environment by taking care of your rubbish disposal needs in Saltley, B7. Book with us and you can be rest assured that you'll receive a professional Saltley waste collection service, renowned not only for the quality of service, but also for being available at a low price. We want everybody to have access to our services and understand that if our prices begin getting a little steep, we'll price ourselves out of the market. We've therefore priced our services accordingly, with the aim of making them accessible to one and all. Call us on 0121 794 8242 to further discuss our fees.

Testimonials
Best waste collection team in B7! So helpful and proper friendly, even helped me cut down on my daily waste. Coming back in a few weeks for some more rubbish to remove in Saltley, hope you're ready!
- Reviewed by Daryl Hodges
The Sights and Sounds of Saltley

Saltley, an inner-city area in the metropolitan borough of Birmingham, is a densely populated area in the east of the city centre. Formerly a parish on Saltley Hill – now Adderley Park – Saltley is now mainly a business area that's home to the operations of a number of popular commercial establishments. Points of interest include Adderley Street – the area of the discovery of the quartzite hand axe, believed to be approximately 500,000 years old – the Saltley Gate Coke Depot, and the Birmingham Wheels Motor Sport Park, a track frequented by race enthusiasts from all over the country.



DO YOU NEED ADDITIONAL SERVICES?