Rubbish Removal

Teddington TW11

Finding the time or even the motivation to get rid of that unwanted rubbish can be a nearly impossible task. It is not enough to find the time to do it, but you also need to decide what to do with it. And if you don't live near a tip, or you don't have access to a van, it can make the issue even more complicated. That's why, at Handy Rubbish, we aim to make rubbish disposal in Teddington, TW11 as easy as possible. Call our team now on 020 3540 8282 and one of our experts can be there within a day (or even a few hours) to get rid of that junk for good. Here, at Handy Rubbish, saving our customers money while providing the best possible waste collection service TW11 for the best value is what we do best.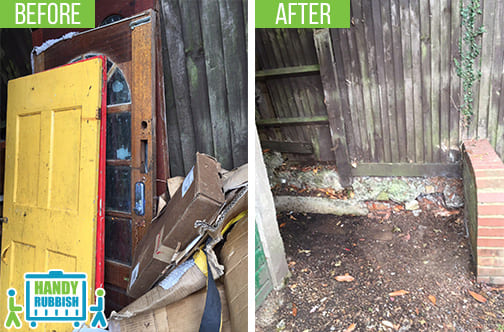 What we do
Where to find us
Like us
Book Cheap

Rubbish Clearance Service in TW11

We know how frustrating it can be to deal with the rubbish from the garden. Often it's a big job to deal with, and sometimes, no matter how much you'd like to, you just can't tackle it yourself. If this is you, then one of our experts in Teddington waste removal can help. We deal with all manner of garden waste including plant debris, old wood, or even old garden furniture. No matter what you need cleared, we can help. We deal with your old clutter quickly and efficiently and can whip it away before you know it. Here, at Handy Rubbish, saving our customers money while providing the best possible service for the best value is what our rubbish clearance TW11 workers do best.
The Rubbish Removal Service in Teddington
You Can Trust
When you embark on a building project in TW11 area, often the last thing you want to worry about is how to get rid of the waste. Unfortunately, with the various regulations around this, it's something that needs to be planned. But don't let it be a source of stress; instead call in one of our certified professionals who can quickly and efficiently clear away that building waste. No matter how much or how little, we can offer a great value builders waste disposal, safely and effectively, without you having to worry about a thing. Our TW11 waste disposal service covers the whole of Teddington so no matter where you live, one of our experts is on hand to dump that junk for you, and at a bargain price too.
List of services we provide

in Teddington, TW11
Household Rubbish Clearance Teddington, TW11
Commercial Rubbish Disposal Teddington, TW11
Building Waste Removal Teddington, TW11
Garden Rubbish Removal Teddington, TW11
Electronic Waste Collection Teddington, TW11
Garage Clearance Teddington, TW11
Waste Collection in Teddington
at Your Convenience
If you've got general waste that you need to get rid of pronto, don't delay and call in one of our highly trained experts today. We can be there within hours to collect and dispose of your everyday waste, saving you time, money and the hassle of dealing with it yourself. Our great value waste clearance services in Teddington mean you can afford to let someone else worry about clearing that junk. We work around the clock, so whenever you need us to come, we can be there at your convenience. Don't let junk get you down, call us today on 020 3540 8282 and let us clear it away. We offer a variety of rubbish removal services TW11 and a wide range of rates depending on your needs, so you can see prices cut in half compared to other services. Call us on 020 3540 8282 now and see how we can save you money, and save you the hassle of clearing that rubbish yourself.
Testimonials
They do everything correctly. Best rubbish removal service you will ever receive in Teddington.
I was happy that they showed up so quickly to my place in Teddington ready to get rid of the waste for me, top waste collection service.
I ordered waste collection in Teddington and am thrilled with the results. Will be back for more if the opportunity calls!
We required an immediate waste clearance, as our aunt was going to live with us permanently, so needed our loft in Teddington cleared. We didn't know what to expect, then realised we had nothing to be concerned about, since they did everything for us and required very little supervision.
Hiring their team in Teddington proved to be the right decision. The waste removal service in TW11 was affordable and fast! It was worth it!
Treat yourself in Teddington

Located along the north of the Thames, Teddington has a great range of attractions for everyone to enjoy. The beauty of the Thames offers great opportunities for walks and outdoor pursuits; the area is primarily residential, but offers a good range of shopping and entertainment options. TW11 also has churches for virtually all denominations, including the Teddington Methodist and Baptists churches. Local sport it also a highlight with clubs for rowing, rugby and canoeing all located in the area. But for those looking for a night on the town, the Teddington railway offers a quick trip into the centre of London at the drop of a hat.


DO YOU NEED ADDITIONAL SERVICES?