Rubbish Removal

South Hackney E9

We all know how quickly a mess can get out of hand. It starts with one or two items being added to a bundle each day and before you know it, you are in need of an entire South Hackney rubbish clearance. If your home is small, the slightest mess can really have an impact on your space and it can be difficult to entertain when you have guests over. Not only will space be tight, but you won't have any room for new items. If you want to improve the appearance of your home and think rubbish removal can be just the answer, it's time to consider enlisting the help of the experts. You can simply call Handy Rubbish on 020 3540 8282 to find out what we can offer. Read on to find out more about rubbish removal South Hackney E9 and how we can help.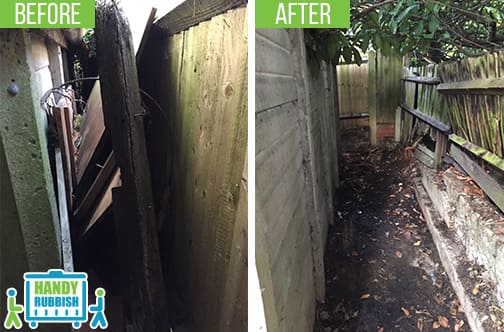 What we do
Where to find us
Like us
Book Cheap
Rubbish Clearance Service in E9
A clear home is good for promoting positive energy and for creating good overall health. If you don't get rid of the clutter which accumulates over a period of time, you will soon find yourself knee deep in waste. Your first task is to get rid of large items, like furniture, and to ensure that smaller items are broken up and put into bags, to be disposed of safely. This is not as easy as it may seem and some of the items may not be easily disposed of during your regular South Hackney waste clearance E9. You may need to transport some of the items on your own, in order to ensure your rubbish clearance is as pristine as possible.
Make Life Easier with
Waste Disposal Services in South Hackney
If you'd rather not take on the burden of full waste removal South Hackney on your own, you may want to think about enlisting the help of a professional house clearance company. We can handle your South Hackney E9 waste collection quickly and efficiently and are happy to visit your home, office or to take on clearance of your garden or building site. It is a relatively simple process to take advantage of the services of Handy Rubbish.
List of services we provide

in South Hackney, E9
Household Rubbish Clearance South Hackney, E9
Commercial Rubbish Disposal South Hackney, E9
Building Waste Removal South Hackney, E9
Garden Rubbish Removal South Hackney, E9
Electronic Waste Collection South Hackney, E9
Garage Clearance South Hackney, E9
Great
South Hackney Waste Removal Service

and Competitive Prices

We are happy to assist with any size of rubbish disposal E9 and will do it as quickly as possible. All you have to do is give us a call on 020 3540 8282 and we will provide you with a quote. All of our prices are competitive and we can guarantee that you'll be happy with the results. We pride ourselves on a quality South Hackney E9 waste disposal service, which is why our clients keep returning to us for more.

Testimonials
It was a pleasure working with this waste disposal company in E9! They offered me a free quote for my job in South Hackney and I paid exactly the price they gave me initially! Superb service at a low price!
- Reviewed by John M.
Living in the District of South Hackney
South Hackney is situated in the Borough of Hackney in London and is north east of Charing Cross (WC2.) One of the nearby notable places which is situated near South Hackney is Victoria Park, which is on the north. There is also Church Crescent which has six almshouses nearby, built in 1849 from funds provided by Sir John Cass's Foundation. St John the Baptist parish church was also built in 1848. There are a number of interesting people who have come from the Borough of Hackney. Some of these include Leona Lewis, who was a previous winner of the X Factor and has gone on to enjoy a successful career since then. Actress Martine McCutcheon also came from here, as did entertainer Marie Lloyd. Ronald and Reginald Kray, the notorious crime gang leaders, also reigned from the area, as did Benjamin Cohen, the internet entrepreneur and journalist.
DO YOU NEED ADDITIONAL SERVICES?