Rubbish Removal

Sudbury HA0

Sudbury rubbish disposal can be a hassle in HA0, if you have to do it on your own on a regular basis. Rubbish removal companies come in handy in this respect but they are not always dependable and can also be a costly alternative to your problems. Handy Rubbish, however, is one company that is as reliable as it is affordable and you will never have to worry about disposing of rubbish on your own again. We are always on time and do our best to take care of your convenience and privacy. If this is what you are looking for, get in touch with us on 020 3540 8282 for a free quote or to discuss your rubbish clearance in Sudbury requirements with us. We will be happy to offer any assistance that might help you make an informed decision.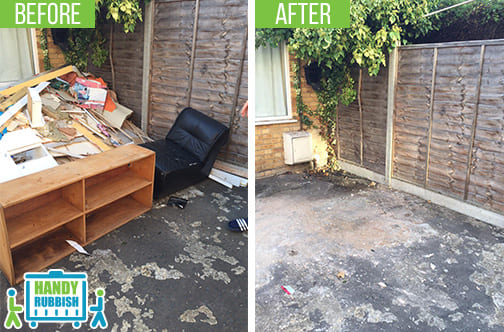 What we do
Where to find us
Like us
Book Cheap

Rubbish Clearance Service in HA0

When we collect rubbish from your place, we do not simply put it all into a dump somewhere, rather, we recycle almost 85% of all the junk we collect. We are committed to being environmentally responsible and so should you, especially when it is so easy. We certainly have a reputation for being the most eco-friendly and reliable Sudbury waste collection company and for good reason. We are respectful to our customers and always punctual when it comes to rubbish collection. The customer reviews on our website are just a glimpse into how satisfied our customers have been with us in the past. We look forward to keeping up our impeccable reputation and continue to strive to be the very best.
Hire our Fast-acting

Rubbish Removal Team in Sudbury HA0

We have a reputation for being the best HA0 rubbish removal team that is why it is important for us to ensure proper training and development of each and every member of our team. This in turn means that you get the best possible service possible, and with our unbelievably low prices, it is a truly special deal. Our HA0 waste removal Sudbury team is the most experienced and is known for their professionalism and efficiency. Call us on 020 3540 8282 to book with us or alternately talk to us about your job and let us come up with a customised waste removal plan best suited to your needs.
List of services we provide

in Sudbury HA0, HA0
Household Rubbish Clearance Sudbury HA0, HA0
Commercial Rubbish Disposal Sudbury HA0, HA0
Building Waste Removal Sudbury HA0, HA0
Garden Rubbish Removal Sudbury HA0, HA0
Electronic Waste Collection Sudbury HA0, HA0
Garage Clearance Sudbury HA0, HA0
The Most Reliable

Rubbish Collection in HA1

One of the best features of Handy Rubbish has always been the high quality service it has offered to its customers since its establishment. Our Sudbury, HA0 waste clearance company is one of the most respected businesses in Sudbury and it is partly due to the quality of our service and partly due to the fair prices of those services that the customers do not mind paying. We have always tried to offer the best value to our customers through our specialised junk removal service at the most competitive prices and we will continue to do so. If you also want to experience the benefits of our affordable and top quality waste disposal service in Sudbury, HA0, get in touch with us now on 020 3540 8282 and request your free quote - no obligation required.

Testimonials
I compared the prices for rubbish clearance in Sudbury and Handy Rubbish provided me with the lowest quote in HA0! The service was more than efficient! Thank you!
- Reviewed by Adrian
A Bit about Sudbury

Situated in the London Boroughs of Harrow and Brent, Sudbury is a historic town that used to once extend from Harrow Hill to Wembley Central. Barham Park is probably the most notable landmark in the area. Other notable landmarks are Hundred Elms Farm of Elms Lane, Sudbury Methodist Church, St Andrew's Church on England, St George's Catholic and the Church of St John the Evangelist. For transport, the residents mainly depend on London Underground connections from the Sudbury Town and Sudbury Hill stations, both of which are on the Piccadilly Line route. The train stations - Sudbury & Harrow Road Station and Sudbury Hill Harrow Station, both on Chiltern Railways, provide suitable alternatives.


DO YOU NEED ADDITIONAL SERVICES?