Rubbish Removal

Tottenham Green N15

Rubbish clearance in Tottenham Green is a necessity and all of us need this service however finding a professional rubbish removal service N15 that is also affordable can be challenging. Handy Rubbish offers comprehensive Tottenham Green waste clearance services at unbelievably low prices and this makes it the most sought after clearance. We have dedicated staff who have been well-trained and know how to deal with customers in a professional and friendly manner. We are the only company in the area who are not afraid of issuing a money back guarantee on all our services. We are confident in our services and professionalism and expect to satisfy each and every customer of ours. Call us on 020 3540 8282 to know more and make a booking.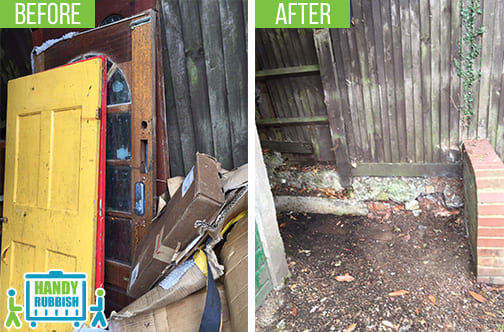 What we do
Where to find us
Like us
Book Cheap

Rubbish Clearance Service in N15

We have been in the waste removal N15 business for many years now and we know how important it is to manage waste in order to save the environment. While it is the duty of every individual to cut down waste as much as possible and many people do it, there is still a colossal amount of waste produced each day. We have recognised the problem and we try our best to deal with it in a way that is good for our customers and our planet: we recycle around 85% of the rubbish we take away from your homes. We have always tried to be eco-friendly and responsible and this is another step in that direction. Our eco-friendly rubbish disposal service in Tottenham Green, N15 is just a phone call away.
A Team of Well-trained

Waste Disposal Professionals in N15

When we think of a rubbish collector, we naturally think of a shabby looking person in a bright coloured jumpsuit picking rags with a stick. However, Tottenham Green waste disposal is an important job and with each passing day, it is becoming more methodical and complicated. For that reason, it is essential for waste removal companies in N15 like ours to properly train the team members in collecting rubbish and dealing with the customers in a professional and amicable manner. So, our expert clearance staff is well equipped with professional etiquette and information that you may need regarding managing your waste. We offer our waste removal services in Tottenham Green, N15 and the surrounding areas. So, pick up your phone and give us a call on 020 3540 8282 now to make a booking.
List of services we provide

in Tottenham Green, N15
Household Rubbish Clearance Tottenham Green, N15
Commercial Rubbish Disposal Tottenham Green, N15
Building Waste Removal Tottenham Green, N15
Garden Rubbish Removal Tottenham Green, N15
Electronic Waste Collection Tottenham Green, N15
Garage Clearance Tottenham Green, N15
The Most Affordable

Rubbish Removal in Tottenham Green, N15

For the first time, Handy Rubbish is offering massive discounts on the already affordable rubbish removal services in Tottenham Green. It is an imperative for us that our customers are happy doing business with us and that is the reason why we are offering loyalty discounts for long-term customers who will see their original N15 waste collection Tottenham Green bills nearly cut in half. This is an effort on our part to building lasting relationships with our customers. We believe that it is always better for the company and the customers to build stable professional relationships and cherish and nurture them. Act now and call us on 020 3540 8282 to make use of this golden opportunity; offer expires soon.
Testimonials
Fantastic service from Handy Rubbish. Super-efficient, and fast. Best in Tottenham Green N15 surely.
The Tottenham Green N15 location of Handy Rubbish is the best rubbish removal service in the business. I needed some stuff hauled away before my garden party, and I made an appointment for the same day! Their prices are extremely affordable too.
Handy Rubbish showed up and gave us a service of a lifetime at our home in Tottenham Green N15. They are way better compared to other junk removal companies.
Had to hire the builder's waste removal service from your firm as the builders left a load of waste in the property before I moved into the Tottenham Green N15. Did a quick and professional job, will use again.
Was looking for some rubbish clearance help in Tottenham Green and found Handy Rubbish they were able to answer my questions and gave a good price to us.
Have used this waste disposal company in Tottenham Green N15 twice and they never failed to surprise me. They offered me a low price for a top class service! Will use them again!
A Few Important Things about Tottenham Green

Tottenham Green is an electoral ward in the London Borough of Haringey. There are around 5500 houses in the area with 2-3 people living in each house on an average. A recently established sports and recreation facility is the highlight of the area. Tottenham Green market is a local attraction that includes variety of street foods, produce, crafts and activities for kids and adults. The residents depend on London Underground stations of Seven Sisters and Tottenham Hale in addition to Seven Sisters, Bruce Grove and Tottenham Hale mainline stations for transport. A number of Transports for London bus routes also serve the area.


DO YOU NEED ADDITIONAL SERVICES?