Rubbish Removal

Twickenham TW1

In everyday life you constantly find yourself with various bits of rubbish. It may take the form of wide range of items such as food packaging, boxes from items, leftovers, etc. One day you realise your home is full of unnecessary items, old furniture, broken electronics which all take up space. These goods take a lot of space that can be used for other appropriate items. You cannot keep your home clean with all these items lying around and handling them all yourself seems impossible. These problems can easily be solved by our Twickenham rubbish removal company.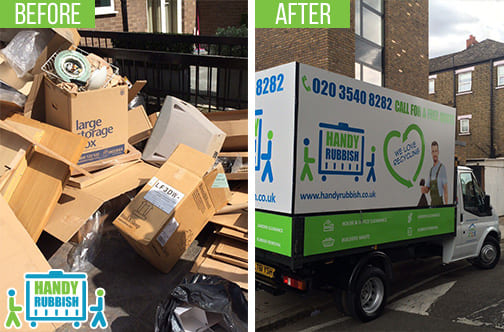 What we do
Where to find us
Like us
Book Cheap

Rubbish Removal Service in TW1

We are a leading house clearance company which can assist with all aspects of waste removal in TW1. Initially, you will have to go through all your things, bag and box them, and carry them all over. Then you should find suitable transport and proper places to take them and take certain junk disposal steps. Collecting all your goods and throwing them away can make things much cleaner, however, domestic clearance is not an easy task. A simple solution to any kind of waste clearance in Twickenham is available in the face of Handy Rubbish.
Rubbish Clearance in Twickenham Is
Never Been Easier
Having our professional staff on your side enables you to handle your waste collection TW1 from start to finish. We can find us on 020 3540 8282 and hire the most professional help of rubbish removal. Our team will come to your address and help you sort and carry goods, before we transport them away. We will dispose of things properly and take the right steps to ensure your waste disposal in TW1 Twickenham is done in a swift and environmentally – friendly way. We can provide a free quote, so get in touch with us to see for yourself how Handy Rubbish can perform to fulfil your demands.
List of services we provide

in Twickenham, TW1
Household Rubbish Clearance Twickenham, TW1
Commercial Rubbish Disposal Twickenham, TW1
Building Waste Removal Twickenham, TW1
Garden Rubbish Removal Twickenham, TW1
Electronic Waste Collection Twickenham, TW1
Garage Clearance Twickenham, TW1
Contact Us

for a Professional Waste Clearance in TW1

Your clearance in TW2 district will go without a hitch if you entrust us to handle your waste disposal. When you call we will present you with a wide selection of rubbish clearance Twickenham services available so that you pick the most appropriate for your demands. It is our specialty to manage any clearance job. Among the services we proudly provide is the skip hire if you prefer to finish the task on your own and at your desired pace. Due to our experienced TW1 rubbish disposal team you can give your home, attic, garden or office a finished and composed look. If you have builders waste accumulated then we can assist you with getting rid of it. Our team is pleased to tell you all about our innovative services when you call 020 3540 8282.
Testimonials
Handy Rubbish is something else. Best Rubbish Removal Company in Twickenham.
Handy Rubbish took care of my waste collection task in Twickenham and handled everything to a very professional standard. I have no complaints, just high praise for this company.
I've worked several times with Handy Rubbish, and they always meet whatever challenges come up in their work. I appreciate their waste clearance services over here in Twickenham. I am a happy client.
I went online to chat with them and it does not take time before we reached a deal on the junk collection in Twickenham. Within 12 hours, the entire wastes were removed. A wonderful team.
It is good to work for a reputable company like this Handy Rubbish. They employ the most talented workers and they approach their work with all sincerity. They remain the best rubbish clearance company for us in Twickenham.
Fabulous waste removal in Twickenham TW1 at affordable cost!
About Twickenham
It is a suburban town Found in South West London and in the Borough of Richmond upon Thames. It has been identified as one of the thirty-five areas of the London plan and it is within the TW1 and TW2 postcode areas. These are close to the TW3, TW4, TW7, TW9, TW10, TW11, TW12 and TW13 areas, which contain Hounslow, Whitton, Isleworth, Richmond, Petersham, Teddington, Hampton, Feltham, among other places. There have been discoveries in the area that suggest settlements from the Neolithic or Mesolithic ages, as well as evidence of Bronze Age occupation, up to the Iron Age and the Roman Occupation. Today, the area is known for its many extravagant homes and for having plenty of leisure facilities, parks and gardens. The oldest catholic College in the UK, St. Mary's University College, is located here, as are Radnor Gardens, Pope's Grotto and St. Margaret's. Twickenham Studios is one of London's foremost film studios. Two major rugby teams, the Harlequins and London Broncos represent the area in both League and Union competitions respectively. The Cabbage Patch is a popular music venue in the area that hosts a wide variety of new and established acts.
DO YOU NEED ADDITIONAL SERVICES?