Rubbish Removal

Becontree RM8

With Handy Rubbish you'll receive a considerate and confident Becontree rubbish disposal team, who are committed to delivering great customer service and quickly removing rubbish from homes and gardens. Our affordable prices, efficient working and legitimate recycling methods make us one of the very best rubbish removal RM8 companies. We always put our customers first and our ethical background ensures every waste collection job is dealt with lawfully and in line with the appropriate guidelines set. If you live in RM10 have a heap of rubbish that you simply don't have the time or ability to tackle yourself then our professional team can take this weight off your shoulders, simply call 020 3540 8282 to find out more.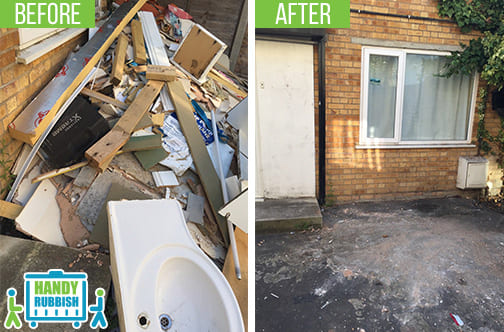 What we do
Where to find us
Like us
Book Cheap

Rubbish Clearance Service in RM8

Before anyone from our team is deployed in Becontree, RM9 we like to gauge what the waste is and how much of it there is to clear; with this information we'll be able to offer the most suitable solutions ahead of the waste disposal. Once both parties have agreed on a price and a convenient date, we will send out our very best Becontree waste disposal experts to get the job done quickly and with minimal stress involved. When the clearance is complete it will be over to our reliable recycling partners to ensure all waste is disposed of appropriately. We don't cut corners and we take great pride in the work we do, so there really isn't a better outfit out there if you live in RM8 and need rubbish removed from your property.
Use Professional

Rubbish Disposal Services in Becontree, RM8

We've heard horror stories about other RM8 rubbish clearance firms dropping the waste they've collected on unauthorised land. With Handy Rubbish there will be no such thing because we have great relationships with all the very best recycling outlets. We believe it's extremely important to dispose all waste lawfully, not just because it keeps things looking tidy but because nature will prosper too. Every Becontree waste removal task will go through all the relevant checks to ensure the correct recycling system is in place. Without a legitimate recycling process at the end of it you'll simply be creating more mess and harming the environment. If you'd like to know more about this aspect of the work we do then call 020 3540 8282 today.

li>
Building Waste Removal Becontree, RM8
Garden Rubbish Removal Becontree, RM8
Electronic Waste Collection Becontree, RM8
Garage Clearance Becontree, RM8
Waste Clearance in Becontree
Perfect Pricing
We wanted to give all residents living in RM9 the opportunity to use our services. Being approachable for all walks of life is important to us and that's why we've kept our prices competitive. With us you'll be receiving brilliant value for money in Becontree because we not only pick up rubbish but we also have proper recycling methods in place to take care of every single waste removal Becontree, RM8 task. There really isn't a job too big or smelly for us; plus in our many years of trading we've probably seen a lot worse than yours. So why not pick up the phone and call 020 3540 8282 to organise everything you need ahead of your pending waste collection in RM8?
Testimonials
Next time I need rubbish collection in Becontree I will be back to use you guys.
This Becontree RM8 waste collection service is the best I have ever experienced.
Clearly a waste disposal company in RM8 that you can depend on. No sleight of hand here, no hidden fees, you know that by using them you won't get ambushed by some sneaky business tactic. Great guys, highly recommend.
They're my team for rubbish disposal in RM8. I've used them a couple of times now and I always get value for money for service in Becontree.
About Becontree in Detail

Becontree is located in the Borough of Barking and Dagenham, East London. This area is unique in the fact that it was purposely built to accommodate residents that worked in and around the area, mainly factory workers and busmen. In the modern day it still hosts a vast amount of residential properties and is considered the largest public housing estate in the world. Many of the residents that now occupy the area use public transport to commute into inner London for work. The nearest tube stations are Dagenham East and Dagenham Heathway, as well as railway links at Chadwell Heath and Goodmayes station also being accessible. Becontree has a few links to culture and music, including grime artist Devlin and the Dagenham Girl Pipers who reached fame in the 70s.


DO YOU NEED ADDITIONAL SERVICES?