Rubbish Removal

Four Oaks B74

When you need to declutter a property, whether for guests, tenants or just because, it's definitely worth hiring some outside help. There's a lot of work to do, way more than one person should have to deal with. So do yourself a favour and hire Handy Rubbish to handle all of the hard work for you. We are the most reliable Four Oaks, B74 waste collection company with years of experience and good reputation all around.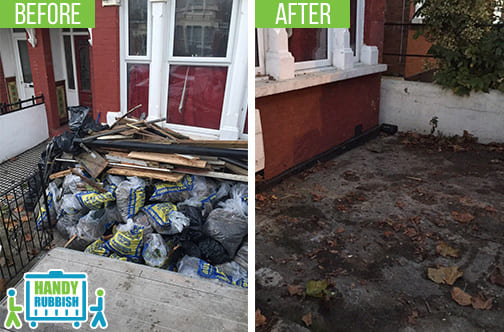 What we do
Where to find us
Like us
Book Cheap

Rubbish Clearance Service in Four Oaks

We're a premier Four Oaks rubbish removal company, and we're available to hire for general waste removal jobs as well as regular rubbish collection visits. Our staff are hard-working and dedicated, and our prices are hard to beat, so be sure to call us on 0121 794 8242 if you're interested.
Here's a Quick Rundown

of the Four Oaks Waste Removal Services We Offer

If there's a property clearance job that needs doing in the B74, we're definitely who you need to be calling. Here are just a few of the ways that our services can be of use to you. We offer general B74 waste clearance services on both a one-off and regular basis. If you've got an office or warehouse that needs clearing, we can handle that as well. The garden waste clearance jobs are a real hassle, but we've got it covered. We'll get your garden tidied up in no time! We can handle bulky items like furniture and kitchen appliances with ease. Just give us a call and we'll handle it! We handle the rubbish clearance Four Oaks jobs so you don't have to waste your time and energy doing them yourself. If this sounds good, call 0121 794 8242 today and treat yourself!
List of services we provide

in Four Oaks, B74
Household Rubbish Clearance Four Oaks, B74
Commercial Rubbish Disposal Four Oaks, B74
Building Waste Removal Four Oaks, B74
Garden Rubbish Removal Four Oaks, B74
Electronic Waste Collection Four Oaks, B74
Garage Clearance Four Oaks, B74
A Variety of Cost-Effective

Rubbish Removal Four Oaks, B74!

We offer efficient and convenient rubbish disposal Four Oaks, B74 to the people on a daily basis, and we do so in the most environmentally friendly way possible. This means we avoid landfills and try to utilise more sustainable rubbish disposal methods like recycling. Our equipment and vehicles are also the most fuel efficient ones on the market too, just so we can keep our carbon footprint to a minimum. We care deeply about the environment because this planet is the only one we have, and we do our part on a daily basis to help keep it clean.
We Have Capable

B74 Rubbish Disposal Team

Keeping a clear home or office is a job that's hard to keep track of, especially when you've got lots of other things going on in your life. Handy Rubbish understands this, and offers a myriad of rubbish removal options that all fall well within budget. Our B74 waste disposal services are local to the Four Oaks area, and that means same-day service is well within the realm of possibility. We can handle full property clears as well as more specialised Four Oaks waste removals B74, so be sure to call 0121 794 8242 for more information! Book now!

Testimonials
Had to hire them to clear out my three storey house in B74 as I was about to sell it. I thought that the rubbish disposal job in Four Oaks would take days but they completed the clear-out in just a few hours! Perfect service and perfect price!
- Reviewed by Albern
Explore the Four Oaks!

Located in the town Sutton Coldfield in Birmingham, Four Oaks is a residential area that borders the north and east boundaries on Sutton Park. It's part of the Sutton Four Oaks electoral ward and is about eight miles north of the Birmingham city centre. A lot of the buildings here have listed building status, and are striking to behold. The Four Oaks Methodist Church for example is of the Gothic Revival variety, and is a Grade-II listed building. Four Oaks also has a tennis-club at the heart of the central residential estate, and Four Oaks railway station provides frequent transportation links to places like Lichfield and Redditch.


DO YOU NEED ADDITIONAL SERVICES?