Rubbish Removal

Highams Park E4

We know that years of living in a place often means that we hoard so many unwanted items that over time, just start to accumulate. Handy Rubbish specializes in Highams Park rubbish clearance services, that is able to deal with this issue with you quickly, swiftly, efficiently and easily without having to stick a ladder up your loft in the dark and wondering how you're going to bring everything down! Things like carpets, personal possessions, white goods and waste clearance E4 is something our experts are trained in.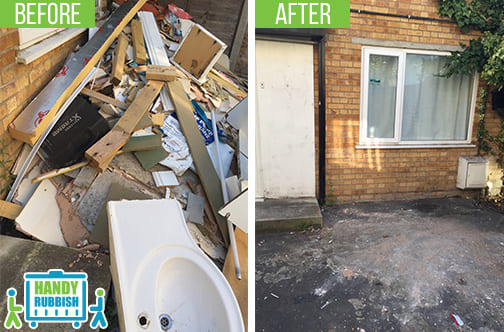 What we do
Where to find us
Like us
Book Cheap

Rubbish Removal Service in E4

Waste collection in E4, Highams Park often mean you will imagine that it would be an entire day before everything is sorted out for you, however here at Handy Rubbish, we offer this incredible service in only 2 hours! Rubbish disposal E4 services are commonly requested, as junk collects up over time and you simply have no more room to be able to store anything else in the house. Give us a call on 020 3540 8282 to speak to one of our advisors to be able to secure a complimentary quote for your place!
Excellent Quality and Best Prices

for Waste Clearance in Highams Park

With a fast and easy service, we offer competitive tier pricing depending on the job that you need doing, so that you don't break the bank by using our clearance services. Our E4 rubbish removal services can be booked on the day and within 2 hours, so you know you will have a clean and brand spanking new loft, receiving best recycling and reusing services.
List of services we provide

in Highams Park, E4
Household Rubbish Clearance Highams Park, E4
Commercial Rubbish Disposal Highams Park, E4
Building Waste Removal Highams Park, E4
Garden Rubbish Removal Highams Park, E4
Electronic Waste Collection Highams Park, E4
Garage Clearance Highams Park, E4
Rubbish Removal E4 Services
Suitable for Every Budget
We also have a free phone number that you are able to book your waste removal Highams Park on, if you are unable to call us during our working hours which are Monday to Friday. As well as offering waste disposal in E4, we also provide basement junk clearance, so call us on 020 3540 8282 to inquire about more services that you feel we may be able to help you with!

Testimonials
They offer excellent deals on waste removal in Highams Park. I have already benefitted from them in E4! Would highly recommend!
- Reviewed by A. Harris
Highams Park – Between the Forest
Highams Park, situated in the London Borough of Waltham Forest is around 8 miles North East of Charing Cross. With a postcode of E4, it is opposite Epping Forest and was traditionally part of the Walthamstow Parish, although most of it now can be found between Woodford Green and Chingford. It is primarily a residential area and most of the houses are of a Victorian age and terraced. Hale End Library is also situated in Highams Park and so do a few primary, secondary and special needs schools. There are two main sports grounds in this area that comprise of Jubilee sports Park and Rolls Park. The field is mainly used for football, cricket and tennis. This area has a beautiful lake with lots of small animals such as geese and swans and has good transport links that include 4 bus routes that pass through it on the way to Chingford Central, Barkingside as well as Chingford Mount. Nearby places include Chingford, Walthamstow, Woodford Green, Leytonstone, South Woodford and South Chingford. Highams Park Station has a direct service to Liverpool Street Station, also has a level crossing that, established in 2002.
DO YOU NEED ADDITIONAL SERVICES?