Rubbish Removal

Ruislip HA4

Being the capital of the United Kingdom, it can be argued that no other city in the nation creates more rubbish than London. In fact, the city turns over several tons of rubbish on a daily basis. The majority of this rubbish may be domestic, but there is also plenty of residential rubbish thrown in there, too. However, residential rubbish can't be thrown away as easily as you think. In many ways you are going to need our professionals to help. When you are looking for expert Ruislip rubbish removal, you won't have to look for long.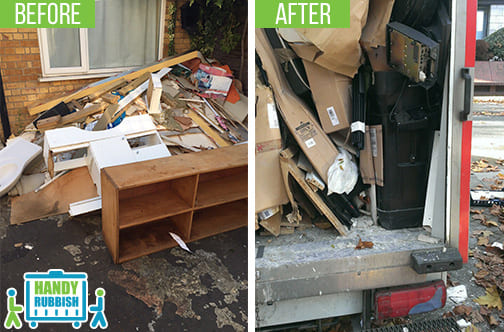 What we do
Where to find us
Like us
Book Cheap

Rubbish Clearance Service in HA4

Handy Rubbish are synonymous with Ruislip waste removal HA4 not by chance, but by effort. We have been working within the local community for the last several years, helping out plenty of local residents along the way. If you are struggling with residential waste, don't fret any longer, pick up the phone and call 020 3540 8282 instead. We take the stress out of the situation and can get the job done right. Don't waste your time on subpar services; speak to one of our dedicated HA4 rubbish clearance team members today.
Exceptional

HA4 Waste Collection Service Range

Ruislip has emerged over the years as a true residential destination, given its historical relevance and tourist landmarks, it isn't difficult to see why. Many of the properties in the area feature garages, but garages themselves present their own issues. They can become magnets for rubbish and clutter, much of which tends to build up over time. Getting rid of this clutter can be both energy and time-consuming. One way to get around this is to hire HA4 rubbish disposal professionals to tackle with the task for you.
List of services we provide

in Ruislip, HA4
Household Rubbish Clearance Ruislip, HA4
Commercial Rubbish Disposal Ruislip, HA4
Building Waste Removal Ruislip, HA4
Garden Rubbish Removal Ruislip, HA4
Electronic Waste Collection Ruislip, HA4
Garage Clearance Ruislip, HA4
The Basics of

Ruislip Rubbish Removal

When you want the best garage clearance services, there are plenty companies, who claim to be able to offer such. However, the fact is that there is only one waste clearance Ruislip company, who can truly live up to such claim, it is Handy Rubbish.
For years we have been providing the best HA4 waste collection services for the Ruislip community, clearing out garages. If you are ready restore your garage to its former glory and clean it out from top to bottom, then all you need to do is pick up the phone and call 020 3540 8282. Our Ruislip, HA4 waste disposal team is waiting to hear from you. They will provide you with an in-depth look at the services we offer, along with a free no obligation quote.
Testimonials
I have used their rubbish clearance service multiple times. The HA4 team is the best!
Domestic waste clearance when building an extension to our home in Ruislip. They arrived early to get set up so they could start on time, which alone was pretty impressive. Conducted a thorough job, just as they discussed and promised. Use Handy Rubbish if you want a job done right.
I needed a garden waste clearance for the rubbish left over from a gardener in HA4. Really happy with the outcome.
Benefitted from their money-saving deals on waste clearance in Ruislip HA4 and saved time, money and efforts! Would highly recommend them!
An Excellent Place to Live
It goes without saying, but if you have spent time in North West London, you will know about or at least heard of Ruislip. It is part of the London Borough of Hillingdon and was formed out of an old Middlesex parish. The parish itself is a feature of the Domesday Book and is designated as a local heritage site. What brought a great change to Ruislip, is the Metropolitan Railway station that opened in the early 20th Century. It proved to be a development catalyst for the area and the areas main Grade II listed buildings would soon have plenty of new surroundings in the forms of both housing and businesses. Ruislip has abandoned its routes over the years. In fact, it is quite the contrary, as in April 2007 plans were announced to restore one of the most famous landmarks. Manor Farm is a Grade II listed area containing various frequently visited amenities that have fallen into disrepair. It just shows that Ruislip is still an area that values its history, as much as it values its residents.
DO YOU NEED ADDITIONAL SERVICES?