Rubbish Removal

South Woodford E18

The office environment is one of those places, which quickly becomes a mess, with so many people spending hours there on a daily basis. The accumulation of paperwork and furniture such as old chairs and desks can quickly add up and in no time at all, you will be in need of E18 rubbish clearance. A stacked office can prove problematic, especially if you want to fit in new members of staff or to show visitors around. If it's an unsightly mess, visitors will be unimpressed and staff will probably not feel at all comfortable in their environment.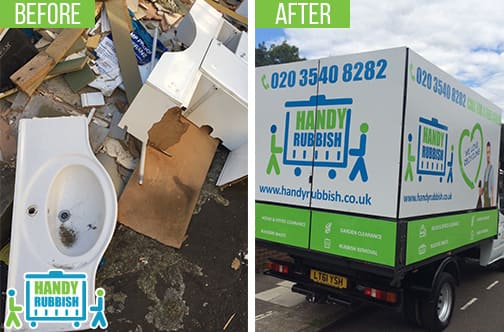 What we do
Where to find us
Like us
Book Cheap

Rubbish Removal Service in E18

Our experts are professional and will take care of the process quickly and smoothly, without interrupting the day to day running of your office. If you feel that you are collecting a lot of unwanted waste in your office and don't have the time to deal with it yourself, it may be a time to hire waste clearance in South Woodford. The process is simple. Just give Handy Rubbish a call on 020 3540 8282 and we will be happy to assist with your waste collection E18 at a time to suit.
Keep Your Office Fresh and Clean

with Our Waste Clearance in E18

When attempting a South Woodford, E18 rubbish removal in your office, it is important to get rid of all your larger items first, such as those filing cabinets taking up space or the desks and chairs you no longer need. You don't want to go head first and rush through this kind of waste disposal in E18, as you may end up throwing out items you would much rather keep hold of. Instead, it should be a carefully planned and implemented project, which should be done with due care and attention. There is no doubt that this is a long and drawn out process and one which many of us simply don't have time for (or can't be bothered with.)
List of services we provide

in South Woodford, E18
Household Rubbish Clearance South Woodford, E18
Commercial Rubbish Disposal South Woodford, E18
Building Waste Removal South Woodford, E18
Garden Rubbish Removal South Woodford, E18
Electronic Waste Collection South Woodford, E18
Garage Clearance South Woodford, E18
Waste Disposal South Woodford
at Your Convenience
If this process seems like one which you would rather leave to the waste clearance E18 services, then all you have to do is lift the phone and give us a call on 020 3540 8282. We have the expertise in knowing exactly how to dispose of items in a safe way, using the right techniques. Whether you want to dispose of large items, such as filing cabinets or paperwork, we can help. We don't mind how small or large your South Woodford waste removal is, we will get rid of all that unwanted waste.
Testimonials
Handy Rubbish is an honest waste removal company located in E18 that does honest work.
Handy Rubbish outdid themselves with the amazing job for me in South Woodford E18. My basement is finally cluttered free, and I can finally have my man cage.
Handy Rubbish is the full package; they have affordable rates, quality services, polite crew, and speedy service delivery - they are really something, and I would highly recommend.
Handy Rubbish gave us some junk removal help in South Woodford E18, last week and they were very friendly. Fast service. Highly recommend.
I went with Handy Rubbish to clear some garden waste in South Woodford. They did a great job and I've already recommended them to a couple of colleagues looking for a waste removal service. Keep up the good work.
Support your local businesses. If you reside in South Woodford, we recommend their rubbish collection service. They cleaned up the waste in our lot quickly and cheaply. Highly recommend Handy Rubbish.
I had a garage full of junk that I needed clearing out. Their waste collection team in E18 came to me on the spot and delivered the best experience! Will hire this team in South Woodford again should the need arise!
What's on offer at South Woodford
South Woodford is situated in the borough of Redbridge in London and is a suburb of Woodford. It is under the postal area code of E18 and is north east of Charing Cross in WC2. The area of Woodford is main up of several other areas, including Woodford Bridge, Woodford Green and Woodford Wells. There are various places of interest to be found in the area of South Woodford. An abundance of churches and chapels are located in the area and it is also home to some synagogues and a mosque. The popular Redbridge Drama Centre is also in the area of South Woodford and is nearby to the Churchfield's Junior School. It is designed to educate local children and adults, with workshops available for all ages. There are many famous people who have reigned from South Woodford and the extensive list has included actor, Nick Berry and former PM, Winston Churchill. Other famous names you may recognise, including Tony Robinson and Kate Williams. South Woodford has definitely been responsible for developing a range of talented individuals.
DO YOU NEED ADDITIONAL SERVICES?