Rubbish Removal

Ladywood B1

Clearing away rubbish can be a very difficult task to complete, especially if you haven't got a professional company on board to give you a friendly helping hand. There are so many questions to ask yourself and so many problems to tackle. Where will I dispose of my junk? How? Can I clear it all alone? Will it be good for the environment? We have a fully inclusive B1 rubbish removal service that answers all of these questions and takes care of all the problems you may be experiencing. Ring us now on 0121 794 8242 to hear lots more information about our Ladywood waste disposal solutions.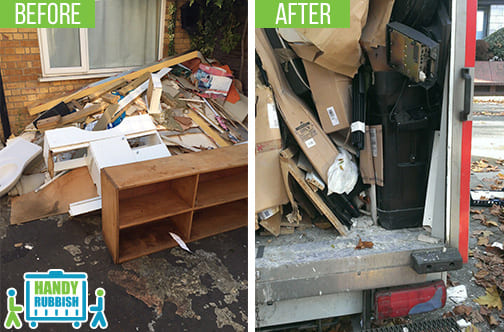 What we do
Where to find us
Like us
Book Cheap

Rubbish Removal Service in B1

We have lots of services to suit your specific needs. Every case is different and will require different services and solutions. That's why we have such a wide range of packages available that are unparalleled elsewhere in B1 and B4. There are solutions to all kinds of waste collection B1 issues. We do builders clearance, garden waste disposal, house clearance, and commercial and domestic junk disposal. We can also cater for any special requirements or needs that you may have. No job is too big or small for us, so get in touch with Handy Rubbish now!
Unbeatable Quality Features and Benefits

on Waste Removal B1 Services

We have lots of features that you will love. Our job is to make things as easy as possible for you when it comes to rubbish clearance in Ladywood and that's why we have gone out of our way in order to offer you the best that we can. We always fit around you! We have a lot of benefits including: open bank holidays and other dates and times; economical and safe disposal of all kinds of junk and waste; the best prices and offers in B1; trained and professional clearance specialists; free quotations and a money back guarantee on all of our services.
List of services we provide

in Ladywood, B1
Household Rubbish Clearance Ladywood, B1
Commercial Rubbish Disposal Ladywood, B1
Building Waste Removal Ladywood, B1
Garden Rubbish Removal Ladywood, B1
Electronic Waste Collection Ladywood, B1
Garage Clearance Ladywood, B1
Fully Eco-conscious

Waste Disposal B1 Services

Not only are our services in B4 fantastic value for money, but we also care about the environment. Our services help make the environment safe and guard it for the future. We recycle most of your rubbish, so you don't have to worry about where it's going! You can relax knowing that we're doing our bit for our local community. If you would like to hear more about the ways we're helping recycle then give us a call on 0121 794 8242. Waste removal Ladywood, B1 with us is green and friendly for our natural world so join us and help dispose of your waste in the proper way!
Ladywood Rubbish Removal
Deals for Everyone
So, you've heard about our fantastic services in Ladywood, B1 and what we do to help the local environment. However, sometimes things simply come down to price and value for money. We offer amazing discounts and deals for both new and existing customers. There's no need to burn a hole in your back pocket with other expensive Ladywood rubbish disposal companies, because Handy Rubbish is here with fantastic services at low prices. We really do deliver on both quality of service and customer satisfaction. Treat yourself today and make sure you call us on 0121 794 8242 to book waste clearance in B1! Reserve your appointment now!
Areas We Cover:

Testimonials
Called Handy Rubbish, had a brief chat with their friendly team and all my rubbish removal requirements were taken care of. Got the best offer in Ladywood B1!
- Reviewed by Chris G
About Beautiful Ladywood

Ladywood is located in the inner city of Birmingham and is owned by its own district committee. The place has a wide variety of land usage of both commercial and residential kinds. The city centre is known as the business district and there are also high-market 'luxury apartment' living areas that are located in areas such as Broad Street. There are two libraries and current plans to build more high-density housing solutions. JRR Tolkien lived in the area until 1973 and was probably one of the most famous residents to date, known for 'The Lord of the Rings' books.


DO YOU NEED ADDITIONAL SERVICES?