Rubbish Removal

West Kensington W14

If you have a cluttered abode it can be very inconvenient for you. Your home will have little space to store goods and allow other people to stay over. It will make the place look messy and make any sort of removal more difficult. To combat this problem you should consider West Kensington rubbish clearance. For that purpose, you need to go through all of your objects and decide which of them are no longer of use. These can be furniture that is old and broken, goods that are unnecessary, etc. Managing this task in West Kensington can be difficult but not impossible if you call our W14 waste removal company Handy Rubbish on 020 3540 8282.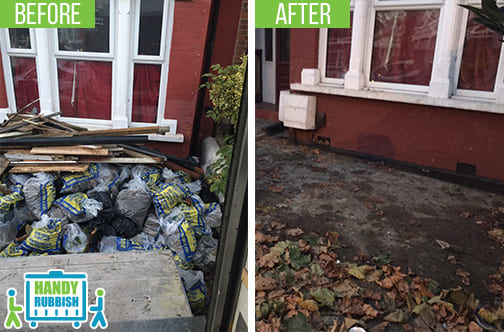 What we do
Where to find us
Like us
Book Cheap

Rubbish Clearance Service in W14

Our waste clearance services in W14 area begin the moment you call 020 3540 8282. Either home or office clearance can take strenuous efforts to complete because you have to sort out all of your goods carefully, bag them up properly, carry and transport them. You also need to know and follow all the proper West Kensington rubbish disposal steps due to the fact that many goods cannot be simply thrown away into a bin. That is why our expert call staff will be able assist you complete every aspect of the chore, so that you can get a good idea of what has to be done.
Expert

Waste Clearance Services in West Kensington

We can do more than this for your clearance. We are a leading rubbish removal company in West Kensington, W14 which is famous for having highly experienced house clearance professionals. All of them are skilled experts who are more than capable of completing any clearance task. The first step to be taken by them is helping you sort your goods and carry whatever you wish to get rid of. Consequently, they will provide suitable transport so that they can drive your things away, giving you a totally clean house to admire. Our W14 waste disposal staff will consider all the waste disposal tasks properly to guarantee every aspect of your job is managed according to the highest standards.
List of services we provide

in West Kensington, W14
Household Rubbish Clearance West Kensington, W14
Commercial Rubbish Disposal West Kensington, W14
Building Waste Removal West Kensington, W14
Garden Rubbish Removal West Kensington, W14
Electronic Waste Collection West Kensington, W14
Garage Clearance West Kensington, W14
The Best

Rubbish Removal Company in West Kensington

Our W14 waste collection team in West Kensington will be more than happy to get your problem solved while you relax. Over the phone, we can guide you through all of our services so that you can select the one that best suits your needs. We can undertake the entire chore for you or just help you with the aspects you cannot do yourself. Among our professional services is also skip rental which is relevant if you wish to dispose of your goods in a flexible way. Calling on 020 3540 8282 you can receive a free quote to ensure you get great experience at a fair price. To learn more about what Handy Rubbish can do for your property clearance, call us today.

Testimonials
I had to move to West Kensington and needed to declutter my house. The guys were wonderful – they came right on time and delivered a great rubbish clearance service in W14 at a cost-effective price. The start of my new here was great thanks to them!
- Reviewed by Sally W.
Live in West Kensington
It can be found just West of Central London. It is part of the Borough of Hammersmith and Fulham, with some parts falling within the Royal Borough of Kensington and Chelsea. Nearby areas include Shepherd's Bush, Hammersmith, Notting Hill, Holland Park, Kensington, Earl's Court, South Kensington and Fulham. The district uses the W14 postcode area, with the W12, W6, W10, W11, W8, SW7, SW5, SW10 and SW6 being close by. It is a residential place and home to many Victorian terraces that have been converted into flats. There is also a wide range of Victorian mansions here, with more standard housing being prominent in Lytton and St. Paul's Court. The population is diverse, with many people hailing from the Americas, Australia, New Zealand, Ireland, the Middle East, Italy, Spain and more. There are many students living here because of the area's proximity to various universities. Development has given way to many new stores and restaurants. The Olympia is an exhibition centre that has stood since 1886 and hosts a wide range of shows and events. Notable people who have lived here include Mahatma Ghandi, Gustav Holst, Freddie Mercury and Bryan May.
DO YOU NEED ADDITIONAL SERVICES?