Rubbish Removal

Moseley B13

If you want your Moseley rubbish removal B13 handled in style, then Handy Rubbish is the way to go. We do it all for you and we do it all properly and at excellent rates. You do not need to suffer all the clutter that gathers at your house, not when we are such an affordable solution. Get rid of all the unnecessary items and rubbish in your house with our brilliant Moseley B13 rubbish clearance services. We bring hard-working collectors to your door to handle the waste collection B13 which will keep your home or office in Moseley, B13 clean and safe. Yes, safe. After all, clutter can be hazardous. So call 0121 794 8242 today and request your free quote.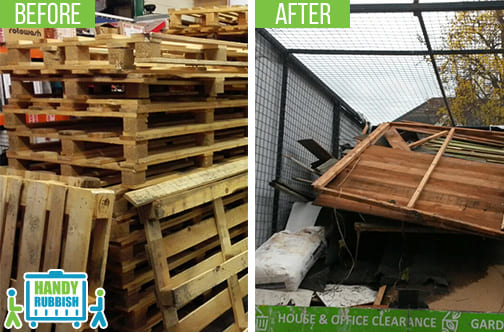 What we do
Where to find us
Like us
Book Cheap
Rubbish Clearance Service in B13
Clearance companies all offer the same services – that is a common misconception. We may all have the overall end goal, but ultimately the level of service and all the quirks you get with us will be of much more benefit to you. We have 24/7 customer service, always online, always ready for calls. Our diligent Moseley waste removal experts are highly-skilled and vetted. All of our services are at amazing prices, with more offers to bring them down further. We provide only high-quality services, real value for money which nobody passes on. Our rubbish disposal Moseley is thorough and we do not miss anything. We are dedication to the environment, meaning that over 80% of your rubbish will be recycled.
Brilliant
Waste Removal for You in Moseley
When you dial 0121 794 8242 and ask for waste clearance Moseley B13, you can rest assured that everything we collect from your place will be taken for recycling. We work with the local recycling centres and we always strive to provide you with eco-friendly waste disposal which will see every single piece of recyclable rubbish sent there. We want to help the environment as much as we want to help you and we do our best for both sides, complementing one service with the other. Our thorough waste disposal Moseley allows us to upcycle items with each visit and we never miss an opportunity to do just that. With our services you get the best – for you and for nature.
List of services we provide

in Moseley, B13
Household Rubbish Clearance Moseley, B13
Commercial Rubbish Disposal Moseley, B13
Building Waste Removal Moseley, B13
Garden Rubbish Removal Moseley, B13
Electronic Waste Collection Moseley, B13
Garage Clearance Moseley, B13
Save Money with Our
Moseley Waste Clearance Services!
Handy Rubbish is where you will receive the best offers on rubbish removal services. We strive to provide excellent services with each visit. Our Moseley B13 waste removal service is what keeps the homes in Moseley, B13 clean and safe from hazardous clutter. Our end goal is 100% customer satisfaction and we know how to reach it – by giving you the best services at the most wonderful prices. We are affordable to all households and we have exclusive offers that cut the prices even further. We do not hesitate to offer even better deals whenever we can – you will always get the best rubbish collection here, with us. Get in touch on 0121 794 8242 now and ask for your free quote.

Testimonials
I thoroughly recommend their rubbish removal team in Moseley– I can't speak highly enough of them. The crew that arrived at my property in B13 were terrific from the get go. They didn't just do the bare minimum; they went above and beyond the call of duty to ensure I was left totally satisfied. And the cost of the service was low!
- Reviewed by Jenny
Come and Visit Moseley

Moseley is located in Birmingham, just south of the city's centre. It is a brilliant place to spend free time in, as it is one of the most popular leisure destinations in the city. While now it is a cosmopolitan location, it was a calm and tranquil place which is said to have given John RR Tolkien his inspiration for the hobbit's home place, the Shire. It has one of the best Farmers' Markets which has won multiple awards. And in terms of education, it houses a popular language college (Moseley School) and an arts college (Queensbridge School).


DO YOU NEED ADDITIONAL SERVICES?