Rubbish Removal

Ratcliff E1

When you need proper Ratcliff rubbish removal done, then you need to come to Handy Rubbish. We understand what our customers want and need and we make sure that we provide it to the best of our ability. We sent out the best teams in the area to provide the rubbish clearance service in E1 which you require to get your home, office, or garden in shape. No more clutter, no more rubbish and waste – one phone call to us will get a team right to your address, whenever you need it. We will do the rubbish collection which you need done. Contact us today on 020 3540 8282 and let us start helping you deal with rubbish.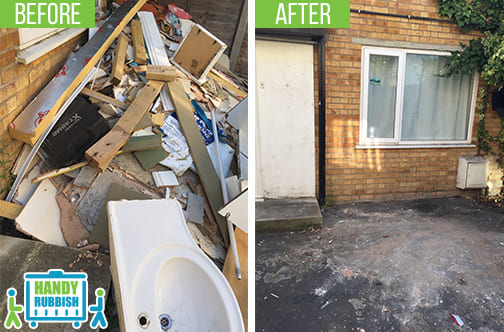 What we do
Where to find us
Like us
Book Cheap

Rubbish Clearance Service in E1

If you let the local council waste collection teams Ratcliff deal with your rubbish, then you are only adding to the landfill problem. That is what you should be avoiding as it only brings about pollution and harm to nature. If you want to help nature and solve your Ratcliff waste removal problems, then call us and we will handle it. We are environmentally friendly, we use fuel-preserving vans, and we always do the waste disposal in the local recycling centres in Ratcliff. We make sure that the rubbish is taken care of in a proper manner and we never endanger neither you, nor nature. We care for both and always help, in any way we can. Call us today and check out our deals.
Swift and Thorough

Rubbish Removal Services in Ratcliff, E1

Less clutter means less trouble. More space awaits you when you come around to doing the waste clearance in Ratcliff you need done. All old objects that do nothing other than take space should be taken care of and we are the perfect company for the job in E1. Call our 24/7 customer service on 020 3540 8282 and hear out our affordable deals. We are always on time and we work fast and meticulously. Handy Rubbish is an eco-friendly company, whatever you throw away; it will be recycled and reused and you will be 100% satisfied with our professional waste disposal services in Ratcliff, E1.
List of services we provide

in Ratcliff, E1
Household Rubbish Clearance Ratcliff, E1
Commercial Rubbish Disposal Ratcliff, E1
Building Waste Removal Ratcliff, E1
Garden Rubbish Removal Ratcliff, E1
Electronic Waste Collection Ratcliff, E1
Garage Clearance Ratcliff, E1
Hire Our E1 Rubbish Removal Services

and Get Great Deals Today

Handy Rubbish is the place to go when you want proper E1 rubbish disposal done. We will handle any amount of rubbish, wherever and whenever you need us to in Ratcliff. With our help you get the best services for your home, office, warehouse, shop, or any other place. We will come in right on time, we will show you how reliable we are and we are barely going to charge you. Our strongest point is the amazing prices that we offer with every service. And the prices get even better over time, so call us today on 020 3540 8282 and see what amazing deals we can bring to the table. Then request your free quote and let us start helping you.

Testimonials
Fast and cost-effective waste clearance in Ratcliff! I just loved the results. Will definitely hire again and recommend all over the E1 area.
- Reviewed by Troy H.
Explore the Excellence of Ratcliff

Ratcliff is located in the central part of London, within the London Borough of Tower Hamlets, and just south of the district of Stepney. It was a former hamlet once famous for its shipbuilding, with a huge population for a village (about 3,500 residents) in the 17th century. This is where one of the largest London disasters during the Second World War took place – the Ratcliff Fire. Here you can see the Ratcliff Church, where all the refugees went during and following the disaster. Here you can also visit the Ratcliff Highway, infamous for the murders that took place there.


DO YOU NEED ADDITIONAL SERVICES?