Rubbish Removal

Whitehouse Common B75

As the leading Whitehouse Common rubbish removal company, Handy Rubbish specialises in a range of different waste collection jobs and can take care of anything from residential property clear-outs to clearing away junk from your commercial premises. Our rubbish clearance B75 experts have years of experience in the industry and strive to achieve customer satisfaction, so whether you have a few items that need shifting or a load of junk that needs clearing, you're guaranteed a first class service – a service that you want. Trust us to execute your job to a high standard, saving you a load of time and hassle in the process.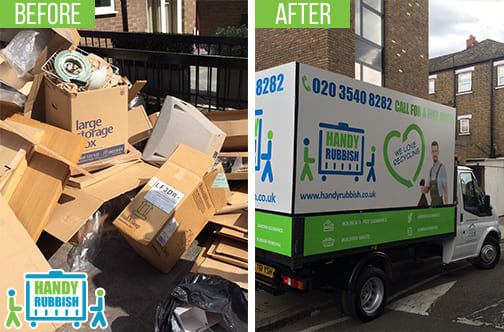 What we do
Where to find us
Like us
Book Cheap

Rubbish Removal Service in B1

At Handy Rubbish we've decided to take the initiative and be proactive about saving the environment. Every little bit helps and we want to do our bit to help combat the effects of global warming and all the potential problems the warming of our planet could cause. We do this by recycling as much of your unwanted items at possible. When carrying our waste removal in Whitehouse Common B75, we don't take your junk directly to landfill; we take everything to a local recycling plant first to see what can be reused. To learn more about our green and environmentally friendly B75 rubbish disposal practices, get on the phone today and call us on 0121 794 8242.
Hiring Our Company

and Get Great Value Rubbish Collection B75 Help

Want a local Whitehouse Common waste clearance service? Call our team because we'll have the best solutions to meet your requirements. Our experts have a tonne of industry experience and will provide you with a quick and simple and all-round hassle-free waste collection service. Our entire range of services are eco-friendly yet still cheaper than skip hire. They'll also be a more convenient solution too, because you won't have to deal with having an unsightly skip parked outside your property for days on end. The booking process is straightforward and there are no hidden costs. Call us on 0121 794 8242 for your free estimate.
List of services we provide

in Whitehouse Common, B75
Household Rubbish Clearance Whitehouse Common, B75
Commercial Rubbish Disposal Whitehouse Common, B75
Building Waste Removal Whitehouse Common, B75
Garden Rubbish Removal Whitehouse Common, B75
Electronic Waste Collection Whitehouse Common, B75
Garage Clearance Whitehouse Common, B75
Hire Us for a Cost-Effective

Rubbish Disposal in Whitehouse Common

If you're in the B75 district and require a waste disposal in Whitehouse Common, it makes sense for you to hire our company, or at least give us a call on 0121 794 8242, get a free quote and hear what we have to say. We're a close-knit team of professionals that certainly know a thing or two about waste collection in B75. We know what our potential clients are after – a simple service that's easy to book and gets the job done at the first time of asking. That's what you'll get when you hire our team. You'll also benefit – your wallet certainly will – from hiring a cheap service, so give us a call and hire us for your needs today.

Testimonials
Incredible rubbish disposal team in Whitehouse Common. They came in B75 and left when there was nothing left to do. All that at an affordable cost! Great company, will surely recommend.
- Reviewed by Adrian T.
The Leafy Area of Whitehouse Common

Situated in the Royal Town of Sutton Coldfield in Birmingham, Whitehouse Common lies on the northern side of Falcon Lodge, formerly a grand estate. The areas are separated by a main road, separating the former estate from the lush green land of Whitehouse Farm and Wheatmoor Farm which is just off the junction of Whitehouse Common Road. Wheatmoor Farm is in an idyllic location and has a public footpath, making it a popular walking destination amongst those who want to absorb the splendour of the local area. Wheatmoor Farmhouse is also in the vicinity, adding to views for residents of the Ashfurlong House.
DO YOU NEED ADDITIONAL SERVICES?