Rubbish Removal

North Harrow HA1

We can help you with your clearance needs. If you would like first class North Harrow clearance services at fantastic prices, hire us now and you are guaranteed to be happy with our services for sure. Get in touch with Handy Rubbish and you can enjoy the benefits to a home or office or garden without rubbish and mess all around. That rubbish will all be replaced with free space. If your home has undergone work, you probably have waste that needs clearing. Our house clearance professionals can provide you with a superb HA1 waste clearance service on a budget. Call us now on 020 3540 8282 for more details.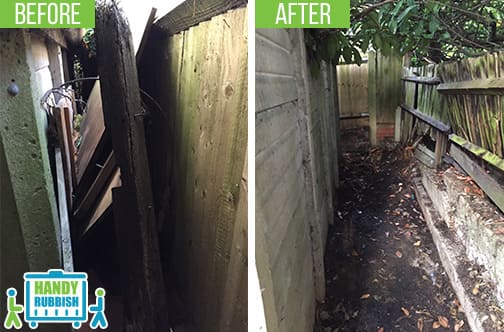 What we do
Where to find us
Like us
Book Cheap

Rubbish Clearance Service in North Harrow

We are right here if and when you need us for anything at all. We understand that many people think that a company like us would charge a fortune for services as such, but we really don't. Our prices are excellent value for money. You won't believe what you can get for your money here with us. There are so many advantages to hiring us for North Harrow, HA1 rubbish clearance so why not get in touch soon and we'll be glad to help you.
There's No

Clearance Company North Harrow Better than Us

Handy Rubbish has a reputation to live up to, which is why we always provide clients with first class rubbish removal HA1 services at brilliant prices. Most people don't have time to clear away junk, when they have work, family and other chores to think about every day. That is what we are here for: to help you! We promise you that when you hire us you will not believe how excellent we are. We have a team of experts that can help you completely. For waste collection North Harrow, we will clear away any rubbish in the garden.
List of services we provide

in North Harrow, HA1
Household Rubbish Clearance North Harrow, HA1
Commercial Rubbish Disposal North Harrow, HA1
Building Waste Removal North Harrow, HA1
Garden Rubbish Removal North Harrow, HA1
Electronic Waste Collection North Harrow, HA1
Garage Clearance North Harrow, HA1
Our HA1 Waste Removal Services are
Better than Good
We also provide a rubbish disposal service North Harrow, HA1, which means we will remove rubbish and it will be replaced with lots of space for you to take advantage of. All in all, we offer all the North Harrow waste disposal services under the sun for you to make the most of. Whatever it is that you are looking for, we are sure we can help you.
Get Our Trustworthy

Rubbish Disposal Services Now

All you need to do is call us now on 020 3540 8282 and we'll be more than happy to help you with whatever North Harrow waste removal HA1 you need. You will also get a free quote if you call now. We are just a phone call away and we can make your life so much simpler. Get in touch now.
Testimonials
Very happy with Handy Rubbish in North Harrow. They do good work and are very economical.
Gertrude Schroeder

29

Jul 2019
Used them three times over the last year for some small rubbish disposal needs in North Harrow. Classy operation, and will be using Handy Rubbish plenty more times in the future.
Jeff Sandhurst

30

May 2019
Desperately needed a waste collection service after Easter. Thankfully Handy Rubbish came to my home in North Harrow and cleared me of my Easter clutter! Terrific service!
Their waste disposal service in North Harrow was easy to book. The team in HA1 answered all my questions and offered me a free estimate. The service they delivered was fast and affordable!
More About the Area
A suburban area of North West London, North Harrow is situated in the London Borough of Harrow and is part of the HA1 and HA2 postcode district. It is quite a lovely place as it boasts a low crime rate, great schools, and plenty of open space. So it is a really child friendly place. If you are a family moving here, it will be absolutely ideal for you and it is really great for children and really well set up for them. You also have lots of facilities here and your local shops and supermarkets, so you will not be forced to travel miles to get to your local shops. Here in North Harrow, there are lots of schools, lots of churches and lots of useful shops. There is lots for you to do whilst you are here and you can enjoy the endless range of amenities that this place if full of.
DO YOU NEED ADDITIONAL SERVICES?