Rubbish Removal

South Ruislip HA4

If you don't take regular care of your home or garden, you will soon find that the waste builds up and this will create an unhealthy and messy environment. A South Ruislip rubbish clearance will end up being necessary and if the waste has built up for a long period of time, it will take a lot of energy to clear it all up. You may not want to undertake this junk removal yourself, which is understandable and in this case, you will need the services of our South Ruislip, HA4 waste collection company. The process is very simple, all you need to do is call Handy Rubbish on 020 3540 8282 and the professionals will be happy to take care of it all for you.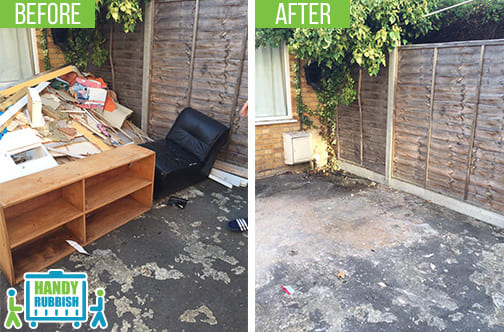 What we do
Where to find us
Like us
Book Cheap

Rubbish Removal Service in HA4

A thorough waste clearance in South Ruislip means more than just taking out bags of trash. It is about splitting everything up and disposing of it in the correct way. You need to be careful with any kind of waste disposal in HA4, as you could easily end up throwing away items that you would much rather have kept. If you have large items to dispose of, such as old furniture and electrical goods, you may need a Ruislip skip hire to help with the process.
Keep a Clean and Clear Home

, Get Waste Clearance in South Ruislip

It is not easy to embark in a full rubbish disposal HA4 service but the results will be a clear and clean home, which will feel as good as the first day you moved in. A clear home can make you feel good and more positive than ever before. It is well worth investing in a full flat clearance. Get in touch and you'll soon be enjoying clean and clear premises, without having to put in the effort yourself. We will provide you with a quote in the first instance and if you are pleased with the price, we will start as soon as you want and provide you with excellent rubbish removal South Ruislip.
List of services we provide

in South Ruislip, HA4
Household Rubbish Clearance South Ruislip, HA4
Commercial Rubbish Disposal South Ruislip, HA4
Building Waste Removal South Ruislip, HA4
Garden Rubbish Removal South Ruislip, HA4
Electronic Waste Collection South Ruislip, HA4
Garage Clearance South Ruislip, HA4
Make Your Rubbish Removal

in South Ruislip as Simple as Possible

You can make this process much simpler by taking advantage of a professional HA4 waste collection. Our professionals will visit your premises and will sort your items into bags and dispose of them carefully. We cover all kinds of waste removal in South Ruislip, HA4, including home, office and garden. All you need to do is call Handy Rubbish on 020 3540 8282 and we will provide you with a competitive price to suit your needs. We have handled all kinds of jobs, so don't worry if you think it's large scale, the chances are we'll have done this several times before.

Testimonials
Hired Handy Rubbish for rubbish disposal in HA4 and disposed of a large quantity of rubbish in one go. My property in South Ruislip was full of any type of waste – garden waste, e-waste, old furniture and general rubbish. They took away all this and I paid the best price locally! Would recommend!
- Reviewed by Howard
What to Expect in South Ruislip
South Ruislip is situated in the Borough of Hillingdon in West London. It is under the postal code of HA4. Nearby areas to South Ruislip include South Harrow in HA2 and Eastcote, also in HA4. There are many reasons which make South Ruislip an interesting place for visitors and residents alike, including the Emerald GAA Grounds which is the venue for Gaelic football and hurling. There is a memorial next to the A40, which is for those who fought in the RAF in the Second World War. RAF South Ruislip was supported by RAF West Ruislip in the 1950s and 1960s. The BBC decided to move their Digital Media Services near to RAF Northolt in 2013. A few recognisable faces have come from the area of South Ruislip, including Ferne Cotton, who is a TV and radio presenter. Gareth Ainsworth, a former professional footballer who is not the manager of Wycombe Wanderers also reigned from the area.
DO YOU NEED ADDITIONAL SERVICES?